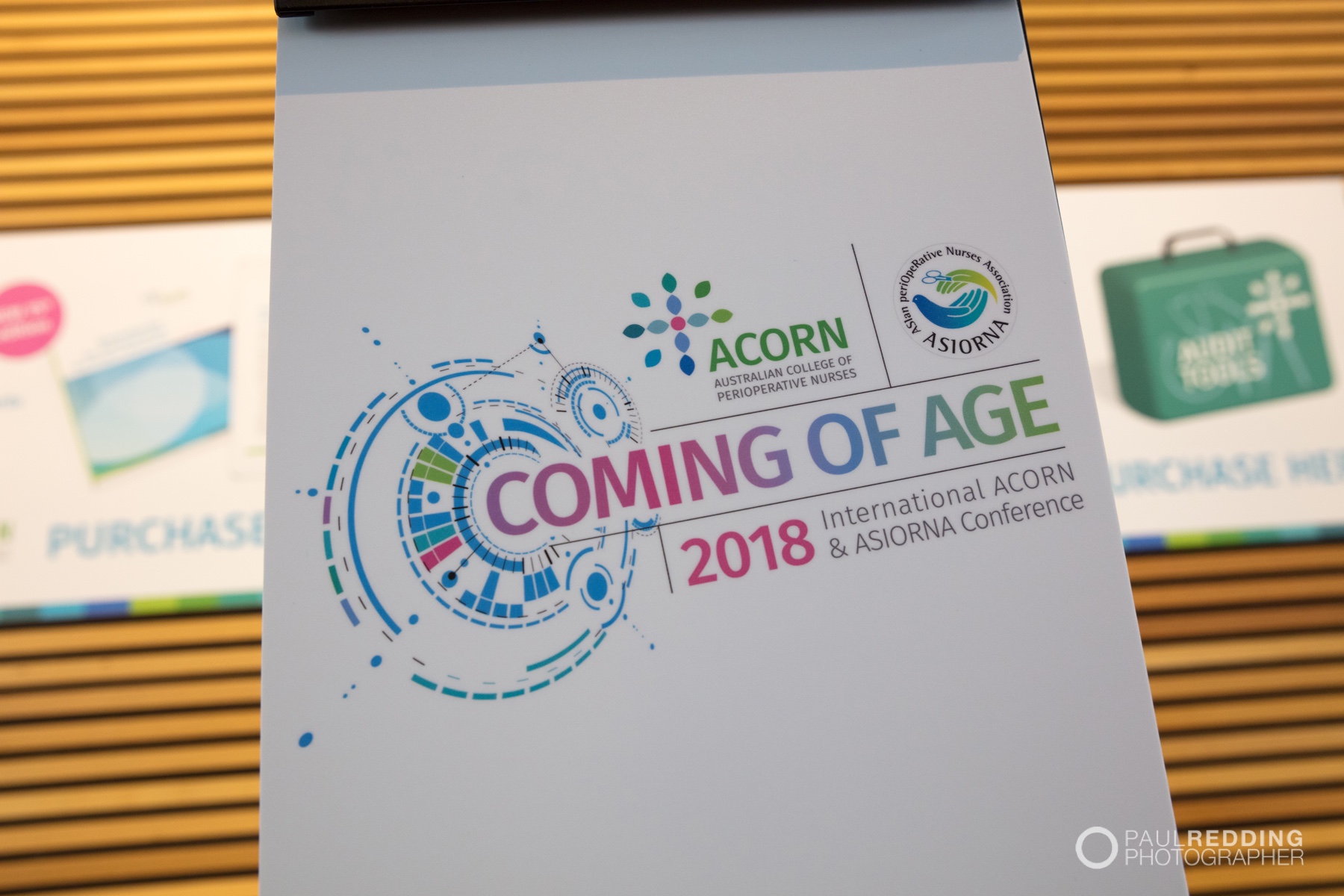 2018 International ACORN & ASIORNA Conference
Paul Redding – Adelaide Conference Photography
ACORN –  Australian College of Perioperative Nurses   |   ASIORNA – Asian Perioperative Nurses Association.
This event was the inaugural hosting of the ASIORNA Conference. Around 1,500 delegates and 100 trade partners participated in ACORN's largest ever world-class research and education event. 
This is my second commissioned assignment as the ACORN Conference photographer. The conference is held bi-annually. I'm looking forward to covering the event in Sydney in 2020.
View images from the 2016 ACORN Conference in Hobart.
Below are selected images from the Adelaide conference photography. 
Dear Paul,
I am writing to thank you for your hard work on the 2018 ACORN and ASIORNA Conference, held at the Adelaide Convention Centre 23 – 26 May.
You have provided our organization with your hard work that was highly valued by myself, members of the staff, the ACORN Board, volunteers and delegates. We all thoroughly enjoyed our time at the event and will have these memories to look back on and utilise in College promotional activities for many years to come, thanks to the efficiency and high standard of service provided by you.
The ACORN Board values the contributions that others make to the College and acknowledges the passion, drive and commitment required to meet our needs and deliver on expectations. Your exceptional 'can do' attitude was noticed and appreciated by all.
On behalf of the ACORN Board, may I wish you all the best for the future and any new endeavours and hope that we meet with you again in the future.
With the sincerest of regards and thanks
It is with great pleasure that I write to provide a reference for Paul Redding, Photographer and Videographer.
In January 2016, I booked Paul Redding to photograph the ACORN Conference, held in Hobart, Tasmania in May 2016. The conference was held over four days and nights and was attended by 1062 delegates from 23 countries. Paul spent twelve hours a day at our conference and provided a photographic record of the event with over 4000 photographs, which were of exceptional quality.
The ACORN Board of Directors were so happy with Paul's work and his commitment, dedication to our needs and customer service 'can do' attitude that I booked him again for our 2018 conference, held in Adelaide, May 2018. Again, Paul surpassed our expectations.
I am delighted that we have booked Paul again for our conference to be held in May 2020 in Sydney. I wholeheartedly recommend Paul to you.

© Paul Redding Photographer 2018