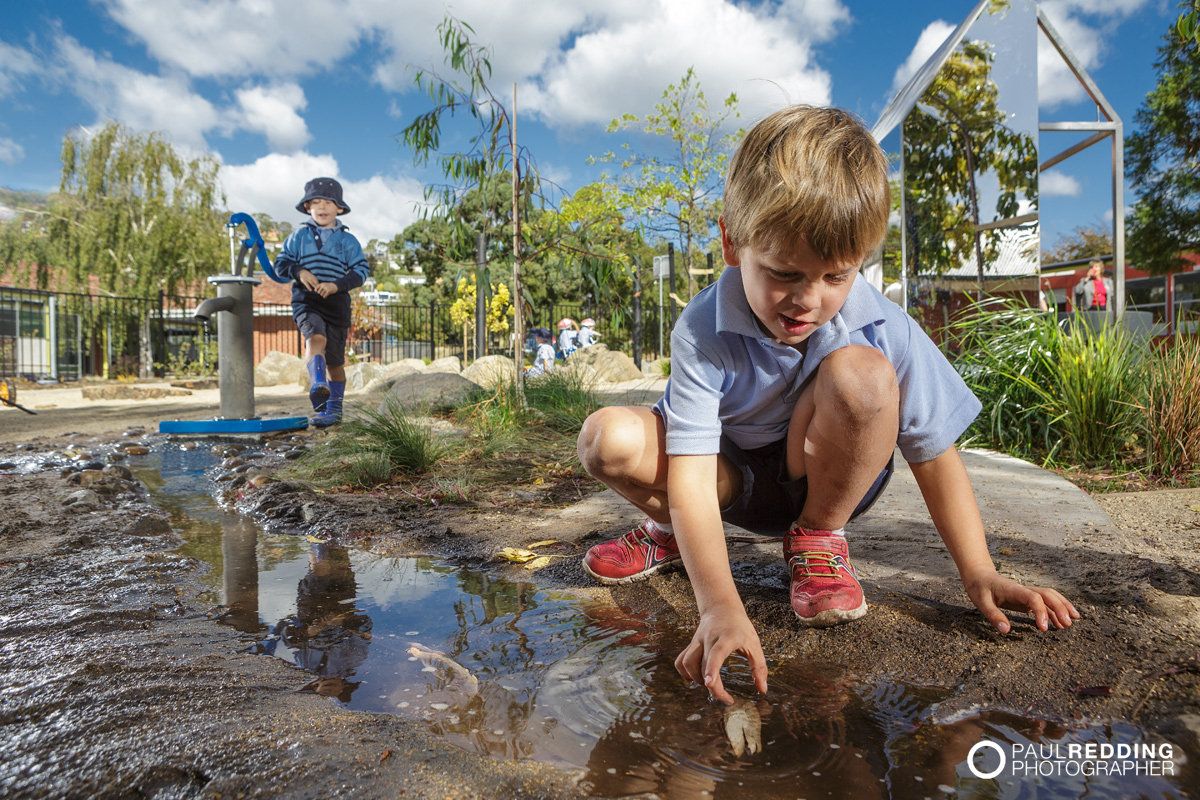 Waimea Heights Primary School   |   18th March 2014
Paul Redding  | Public Relations Photographer Hobart
Recently, I shot this public relations photography assignment at the Waimea Heights Primary School in Sandy Bay, near Hobart. The images needed show the unique learning environment, active involvement of students enjoying and benefiting from the facility and the school's placement in the surrounding location. When I drove to the front entrance of the school, the first thing that I noticed was a rather unusual road sign. The words printed on this sign immediately conveyed a message that reflected the high level of care and family values associated with Waimea Heights Primary School. It was a 'No Standing' sign which read, 'Kiss & drop off or collect & cuddle."  Light hearted but sincere and caring. When meeting the students, they were focused, polite, confident and happy. Waimea's principal, Sall Gill, is the driving force behind the upgrade of the schools facilities. Built in 1953, the buildings are of a style that cared little about the spectacular view or the amount of light entering the rooms. The original buildings have been stylishly modernised to make the most of these attributes and undercover walkways give protection from the elements. (designed by : M2Architecture). New special features of the school include large bush areas, safe for the children to explore and a man made creek bed complete with running water which is manually pumped by the kids that are lucky enough to be in kinder. The kinder creek and mud kitchen are an absolute hit with the children. They learn all sorts of valuable skills using more natural and attractive teaching aids. For example, texture and modelling of real mud as opposed to synthetic play doh, the flow of water or learning how things float. Most importantly, the children were socialising and working together, be it riding the tricycles through puddles along the mini concrete road with a creek crossing, or formulating a recipe for the perfect mud cake. The resulting images are to be displayed on large panels at both entrances to the school. The message conveyed is a proud one. Proud of the facilities, but mostly proud of the quality learning experience offered by Waimea Heights Primary School.
Opening of the newly designed Waimea Heights Primary School kinder section
2nd July 2014
Just to follow on from the above post, Principal Sally Gill from the Waimea Heights Primary School invited me as an honoured guest, to the opening ceremony of the new purpose built kindergarten, playground/learning environment. Photography from the March photo shoot was used in the creation of some very high quality promotional signage. It was great to see the end product. It gave me goose bumps as every fine detail of the images supplied, reproduced sharp as a tac and true to colour.  It was the culmination of an idea that Sally had in her head for quite some time and it looks absolutely brilliant!.
Enquire about Commercial photography
Find out more about commercial and public relations photography by Paul Redding Photographer here!
© Copyright – Paul Redding – Public Relations Photographer Hobart