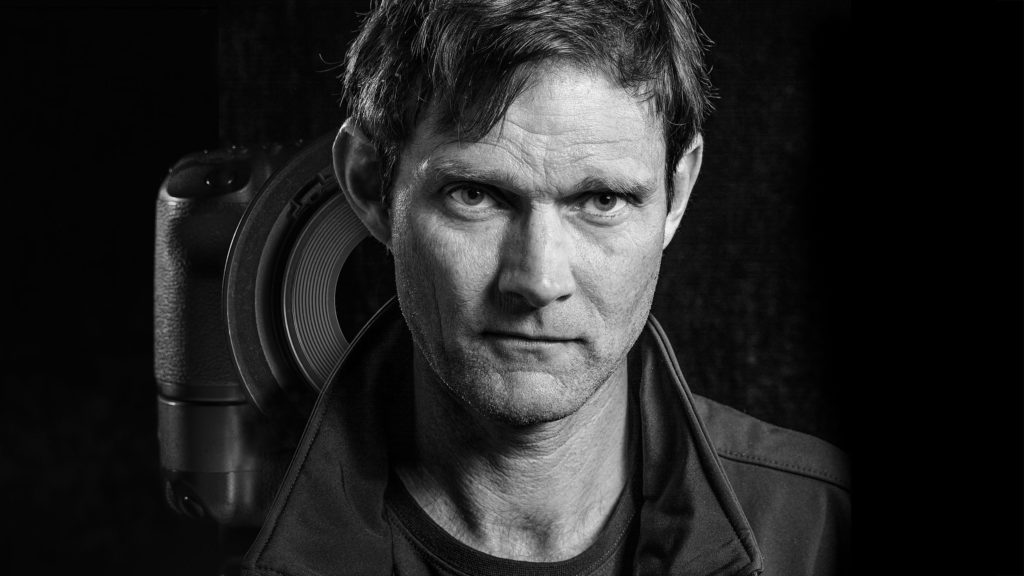 Paul Redding | Hobart Professional Photographer
I am a Hobart based professional photographer with a lifelong love of photography and decades of industry experience.
Mission Statement
A Hobart Professional Photographer with a mission to deliver high quality images that project a distinct professional brand for the client, on time, on price and with the least amount of disruption.
The Website
This website showcases a diverse body of work. It crosses numerous photographic categories such as : Portrait, Business Events, Corporate, Commercial, Architecture, Workplace, Aerial, Industrial, Product and Time-Lapse.
My professional photography journey
My latent passion for photography started when I was about six years old. I discovered this little gem about myself while looking through old work books from my primary school days during a clean out at my parents' place.  (Thanks to my Mum for keeping these). There was a brief but interesting  snippet written by myself. It stated my intention to be a photographer when I grew up.
At the age of eight, our family embarked on a holiday adventure across Australia. At the time, Perth WA seemed like a worthy place to spend every last cent of my pocket money on my first camera. It was a Kodak instamatic. The camera cost about $8. It used 110 film. The spring shutter lasted for about two film cartridges before it was rendered useless. This resulted in a very disapointing result but I carried on undeterred.
Spending most of my available cash and credit on slightly more complicated camera gear is a trend that seems to continue though out my life.
During my teenage years, every penny saved from a the paper run and part time sales assistant job was used to upgrade to a Fujica st605n 35mm SLR film camera. That's when photography sunk a hook into me.
I photographed everything that moved and everything that didn't. I processed Black & White film and made prints in my poorly ventilated dark room / bed room (Not a good idea).
Students from the school paid for this hobby stage by purchasing the poor quality prints of photographs I had taken of them at school.  This was possible due to non-existing mobile telephone technology.
I was given the nick name of 'Snapper Redding' by one of the teaching staff at the high school.
On leaving school in 1982, inspiration to further myself as a commercial photographer came from a very talented professional photographer and Hasselblad Master by the name of Gary Barnes (now deceased). He had an exhibition at the local shopping centre that showcased his commercial and industrial photography talent.
Deciding that 'this was for me', I asked for his advice on how to enter the photographic industry. He suggested enrolling in the Sydney TAFE – School of Graphic Arts Photography Certificate Course. This entailed four years of commuting 160 km, three days a week. That seemed fair enough and so the journey began.
Getting into the photographic industry
My supporting parents were very supportive beyond the call of duty.
There were times that my mother assisted me in the small hours of the morning due to portfolio deadlines and darkroom disasters.
The return journey home from TAFE was fairly late at night. My father would regularly wake me by knocking on the train carriage window at the end of the line in Port Kembla. I had fallen asleep and missed the Wollongong Station. He did this after long shifts working as a coal miner.
They also were responsible for encouraging me to answer a school photography job advertisment that they had seen in the news paper. It was a job with Onsite Photographics. To my surprise they gave me a start. This job saw me through TAFE and beyond. The proprietor, Bjorn Godwin was a great man to work for: Astute, Energetic, Thoughtful and Loyal.
I'm still great friends with fellow co-worker Anthony Fretwell, who went on to become one of Sydney's top Architecture Photographers.
Sydney TAFE was an important step in the right direction. That year, about 150 new students were accepted into the Cert lV Photography Certificate Course. Not many people would go on to complete the course. On the enrolment day I was interviewed by Mr Bob Hawley. In his opinion, the distance between Wollongong and Sydney TAFE was a barrier to entry into the course. It took a bit to convince him that I would see out the duration. Registering a business name just before the TAFE application got me over the line as I was now in the Photographic Industry:)
I managed to top the course for the first three years. A lovely lady called Janice took top position in the final year.
From Analogue to Digital
One my favourite TAFE teachers, 'Overhead' Ted Ashby  (the name coined due to his propensity to over utilise the over head projector) said a few things that have stuck in my mind. One was 'that it takes twenty years to become an accomplished photographer' – This I now appreciate. He also gazetted the massive change that was coming to the photographic industry decades before the monumental impact of digital photography.
The digital photography transformation period was a steep learning curve and an expensive challenge. It required new equipment, adapting to new techniques and computer skills.
Film Scanning was an industry that stood between photography and the printed media. Their investment in film scanners was high and they fiercely guarded their domain. Information regarding image file preparation and colour calibration and was not easy to come by.
Early adoption of digital capture was a bit of a disaster. Quality of camera output was overstated. It was a pretty rough ride to the new photographic world.
Diverse Portfolio
Launching myself into the competitive world of professional photography was very interesting in the City of Wollongong. It became obvious that I would need quite a few strings on my bow to survive. The smaller population and proximity to Sydney made it necessary to have a diverse portfolio. This developed naturally as the economic times changed. Portraits and weddings were about fifty to sixty percent of the work mix. Industrial photography made up most of the remainder  (Wollongong at the time being a steel making town).
I started by shooting weddings for South Coast Colour Photography, small commercial jobs with local advertising agencies and corporate photography for Wollongong City Council. Through a series of self published art prints, I was able to promote myself well after the recession of 1990.
The break I needed
A turning point for me was in the early nineties. I teamed up with a man who was to become a dear friend and major influence on my photographic career. He worked me hard, paid me little, but gave me an opportunity to prove myself as an industrial photographer. His name was Bastiaan Mastrigt his company was Langmas Graphics. He was a brilliant designer and extremely passionate about his work.
My mentor, Gary Barnes had just finished his working relationship with Bastiaan and I took over where Gary left off.
Bastiaan and I worked together for years on some prestigious commissions such as the BHP – Hot Strip Mill brochure (which was more like a book.) A presentation folder with leaflets for the BHP Tin Mill and a rather tricky shoot for Australian Steel Mill Services.
Working on a presentation folder for Metserve led to a shot of molten iron dumping at the 21 area of the Port Kembla Steel Works being used on the front cover of the Swire News magazine.
A photography assignment for the Allied Group – Allied Plant Services,  was meant to run for six weeks. It was expanded to twelve months.
I went on to win a few national Australian Institute of Professional Photography (AIPP) awards with these Industrial images and became an Associate of the A.I.P.P. in two years.
The tough photographic assignments I shot for Bastiaan and his clients were great training. There have been multitudes of photographic assignments since.
My family and I moved from Wollongong in 2007. We are still loving the life here in the Huon Valley and the opportunities that have been given to us here in Tasmania.
I look forward to working with you soon.
Paul Redding – Hobart Professional Photographer
 Hobart professional photographer mainly servicing Southern Tasmania. Australia wide service with home base in the Huon Valley Tasmania.
Qualifications:
Photography Certificate IV School of Graphic Arts Sydney Ultimo TAFE.
Recipient of AIPP national photography awards.
Commissioned images have been used in printed and multimedia, such as brochures, catalogues, corporate & annual reports, calendars, posters, magazines, newspapers, billboards and television, nationally and international. Some have been national award winners.